Qwyre web-monetized African speculative fiction short-story fund
African speculative fiction is finally achieving recognition. Nnedi Okorafor and Tade Thompson have won all the awards. All of them. And amazing anthologies like Dominion — edited by Oghenechovwe Donald Ekpeki and Zelda Knight — have introduced some amazing authors, like Dilman Dila and Mame Bougouma Diene, to a wider audience.
We want to do more. We want to showcase awesome writers while also promoting real-time, direct payments for authors.
We have set up a $500 fund to offer $50 to each of the ten best African speculative fiction short-stories published on Qwyre.com.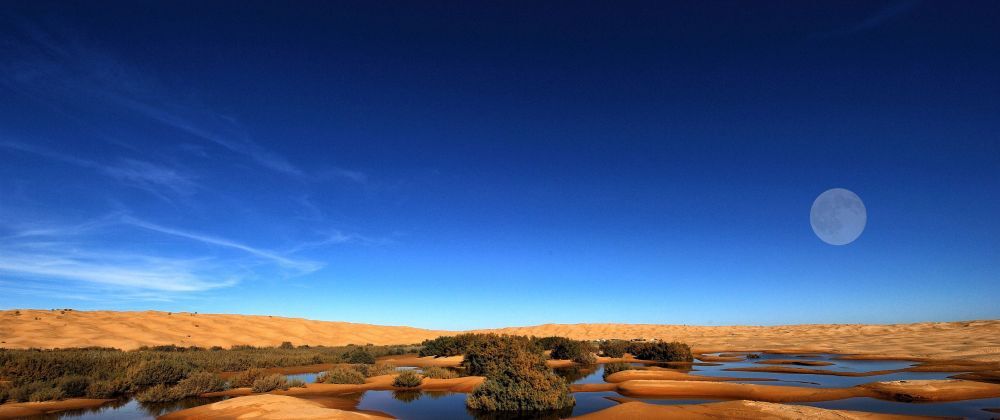 And — yes — any work published here will be eligible for nomination to the Nommo Awards for best African speculative fiction.
---
The rules are simple:
5,000 words, but if your story works longer or shorter, do that. Don't let a word count get in the way of a good story.
Competition only open to African speculative fiction.
Multiple submissions are fine, but you can only win for one in any one month.
Original is preferred but — if you have rights to republish — a second publication is ok. This is especially welcomed if you've self-published elsewhere.
Abide by Qwyre's creator's code.
The contest will be judged by a small team of volunteers from the African Speculative Fiction Society, including me. We will award a maximum of 10 short stories in any given month.
Each month we'll read all the works published on Qwyre and award $50 to the winning short-story collaborators in the ratio which they agreed in their contract. For as long as we can afford it, we'll top up the fund to ensure we can keep offering this award. If you want to support us, please donate to the fund (you'll see a 'tip jar' at the bottom of the page).
---
Most fiction competitions end there, with the prize. But Qwyre can offer everyone — including those who aren't amongst the award-winners — the opportunity to earn direct from readers from the moment they're published.
Qwyre supports streaming micropayments though a new web standard called web monetization. Readers pay a subscription which allows them to make per-second payments as they read here. Your work earns about 36 cents per hour, or 0.6 cents per minute.
For every minute someone reads your work on Qwyre, you get paid.
To put this in perspective, streaming music services pay about 0.003 to 0.12 cents per 5-minute song. A 5,000 word short-story would take about 12 minutes to read and earn 7.2 cents. You need to be read 700 times to earn $50. Unlike streaming services, we don't keep the money and then pay you out some time in the future. Payments here are direct.
Qwyre authors share in this income through direct payments, and in real time.
If you've self-published on Amazon, you know how their approach works. They take all the money and, some interminable time later, they pay you your share. Web monetization means — instead of us taking the money, calculating shares, and sending to different people — we divert payments to parties as people read.
Which means — just like other publishing platforms — you need to create an account so you can be paid.
Here's how all this works ...
Publishing your work on Qwyre.com
First things first. Open your veins and bleed. Write something. Once you have something written, proceed.
There are plenty of ways independent authors can self-publish. That lack of any friction between author and reader is one reason so much is produced, and with such low quality. Commercially-published work benefits from the simple barrier of being edited. Just that surfaces poor prose and obscure, or irrational, storytelling.
Qwyre is about collaborative publication. About a relationship between you and an editor.
Anyone can be an editor and I encourage writers to offer to edit other writers work. Not only does this help you improve as a writer, but you also have the opportunity to share in the revenue of a greater diversity of work.
Summarising the workflow:
Convert your Word document into an epub, and we have a free converter here in this app to help you.
Upload your epub to the workshop and ensure it looks and is structured the way you want.
Offer your work to an editor to read, agree a proportional fee for their work.
When they are satisfied with the work, they will approve publication and you will be live.
If you want, take a look at other offers and help edit others work.
What you choose to offer an editor is by agreement. If you agree to pay an editor 15%, and 85% for yourself, then there is a three-way split: 12:73:15 (this ratio takes into account Qwyre's 15% share). We push payments to each party in this agreed ratio. Everyone gets paid right away.
Here's the workflow in greater detail:
1. Start at your new creator's workshop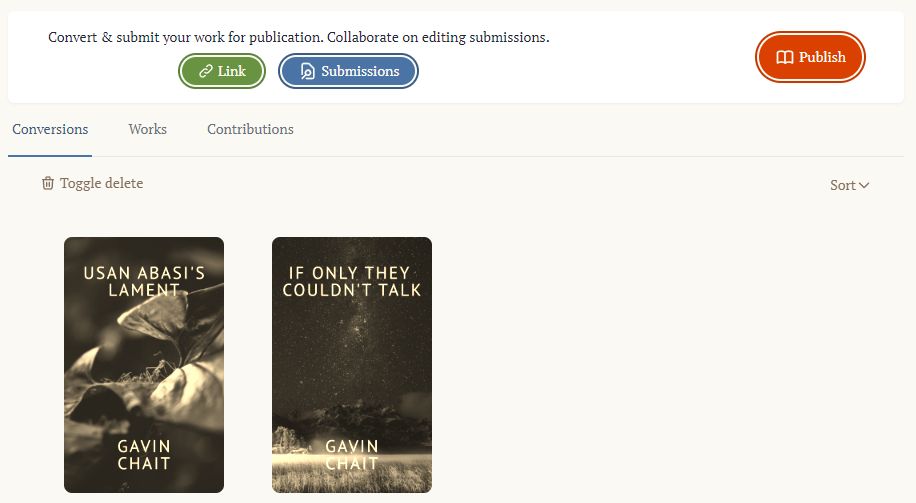 Here you'll find links to the docx convertor, as well as panels to review your works in progress, and offers for editors.
docx to an epub
2. Convert your Word document
This is a three step process where you'll describe your work (title, author, publishing date, keywords, that sort of thing ...), upload the document and cover, and then build the standards-compliant epub. This allows Qwyre to stream your work to readers.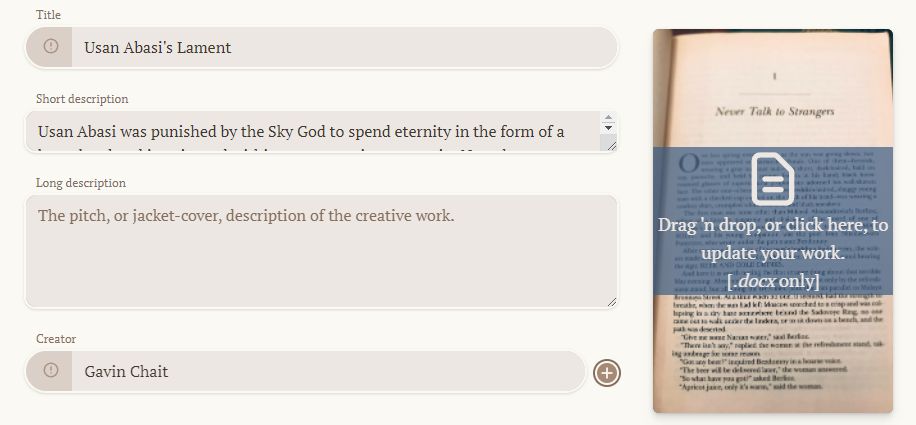 epub
3. Import your
You can do this either during the docx conversion process or, if you've produced your epub in some other way, direct into the platform: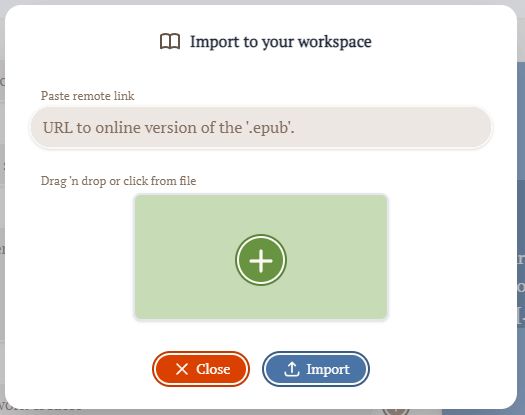 This is intended to be as easy as possible. If you've got an external link or a local file, either can be imported.
Coming from Amazon: If you've prepared a .mobi for uploading to Amazon this won't work here. Amazon uses a proprietary version of the .epub standard. However, you usually have to pepare an .epub before you can create a .mobi and that version should work here.
4. Review your work
Check that metadata (your descriptions and keywords), the contents and sample text are presented as expected: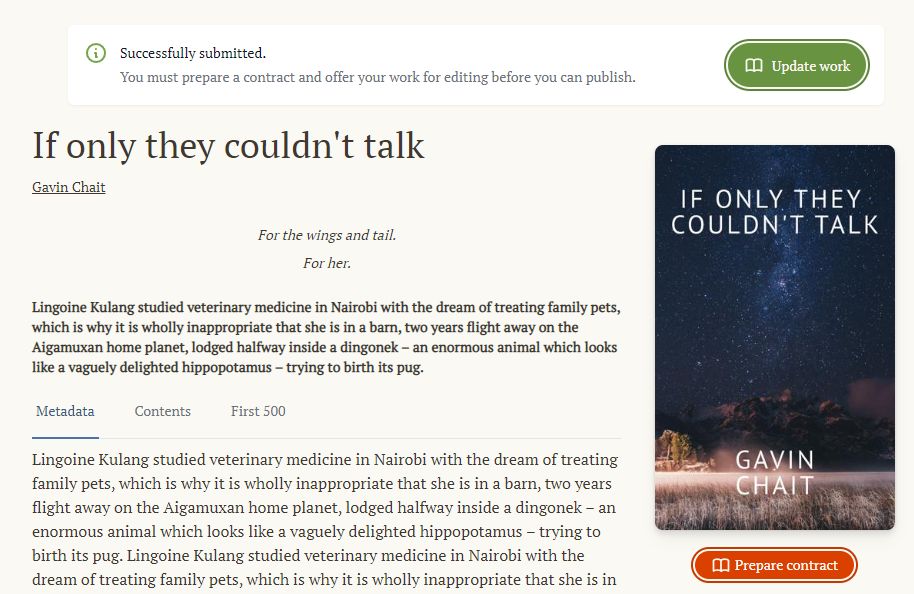 The metadata and text are derived entirely from the epub you uploaded. If anything is incorrect it may be because of non-conformance to the epub standard, or because the text is wrong in the source. Correct that, upload a new epub, and ensure you're happy.
5. Prepare a contract
Decide on what you want to offer as your revenue share between yourself and prospective editors. This is what will be shared between the author and editor during monetization. Remember that Amazon and agents often take 30%.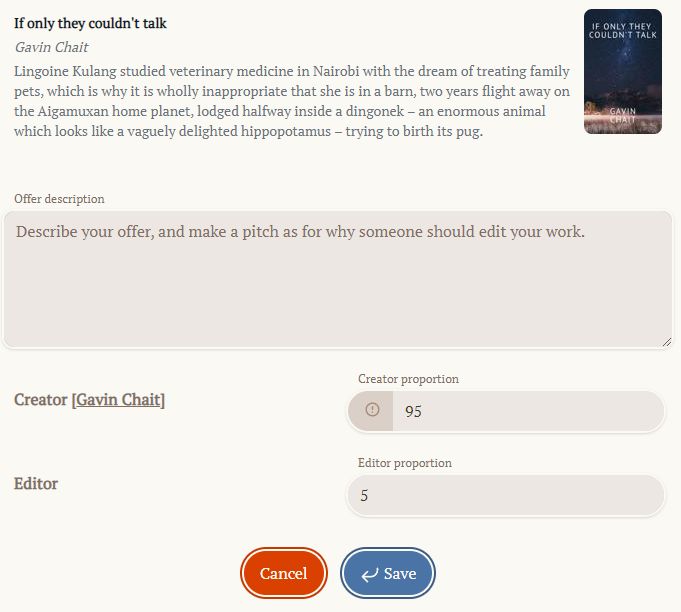 Anyone can be an editor and I encourage writers to offer to edit other writers work. Not only does this help you improve as a writer, but you also have the opportunity to share in the revenue of a greater diversity of work. Editors are paid too!
6. Offline collaboration for publication
Talking, or corresponding, directly with your editor is an important part of the creative process.
The review and collaboration process is initiated via email. We only share the editor's email address with the author when offered, and then getting out of your way once you finalise your contract. Qwyre is not going to own the editorial process and the parties to the creative work should edit and review as you prefer.
Only once both parties have agreed the contract, and agreed the work is ready for publication, can the creator release the work onto the platform.
7. Set up your payment pointer
You can't use your credit card and need a dedicated payment pointer to start receiving streaming payments. The mechanism uses something similar to crypto to get paid, but the cash is paid out in the standard currency of your choice. The default is USD. The two providers of these streaming payments wallets happen to also do crypto-currencies, but you don't have to have anything to do with that if you don't want to.
Streaming micropayments requires a special destination pointer (a digital wallet) to receive payments, and do this without charging any transaction fees. There's nothing stopping Visa or Mastercard offering such a pointer, but this new standard needs to become popular first.
Creating a payment pointer / wallet is straightforward and well-described here Digital Wallet and Payment Pointers for each of the current wallet providers:
Once you have your pointer, simply save it to your personal profile.
You're ready to be read!
A call to readers and writers
So ... there it is. I created Qwyre in part because of my frustration with app-based self-publishing services and my desire to read more African speculative fiction.
If you can write, please write. If you can edit, please edit. And if you can't do either, help me get this message out!
If you have any questions or concerns contact me. I would love your help in spreading the word and helping to draw out writers to Qwyre and web monetization. And I hope, soon, to be reading your work.
---
WhoIs
Gavin Chait is an economist, engineer, data scientist, sometime-traveller, and author. He is fascinated by the frontiers of human progress: innovation vs ignorance; wealth vs poverty, migration vs stasis. He also drinks a great deal of coffee.
He has written two African speculative fiction novels — Lament for the fallen and Our memory like dust — both published by Penguin Random House, and was a Nommo Award nominee for Our memory like dust. He received a grant from the Interledger Foundation to develop Qwyre.
You can also read one of his short stories, free, here on Qwyre: If only they couldn't talk.
WhatIs African Speculative Fiction
A challenging question, and a good one. There is more diversity in a square kilometer on our continent than in the rest of the world put together. Ethnicity won't cut it. Neither will skin colour, language, sexual orientation, gender, faith or philosphy. It helps to have come from here. To have our dust in your pores, our sun in the smile around your eyes. But what of our diaspora? Of those untimely ripped, whose ancestors were sold to toil as chattel slaves far from home? Or of new arrivals, with fathers, mothers and siblings buried beneath our earth?
So it is not so straightforward to draw a line and state, "Ah, but you are an African."
And while anyone can publish on Qwyre, this is a contest aimed at promoting African speculative fiction. Our judges will draw that line. We will decide what represents our continent. Our dreaming skies, our memory like dust.
Once we have chosen, you may judge us, as to how well we have kept your faith.
---